HELPFUL TIPS FOR REGISTRATION
Here are some tips and helpful facts about the registration process:
You do not need to have a Paypal account to pay for your competition fees. When you complete your online application and click submit you will be taken to the Paypal page to pay for your fees. Underneath the login/password box there is a link where you can pay with a credit card or debit card.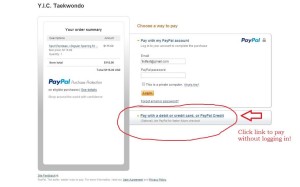 Sunday's World Class competition fees are higher than Saturday competition.  We will be using Daedo electronic chest gears and Senior men and women divisions will be competing for the grand prize of an all-expense paid trip to the Korea Open! Sunday competitors will be responsible for their own electronic socks.
If an athlete wants to compete in both regular sparring and World Class sparring he/she must register and pay for both events separately.
Competitor List will be available for you to see who has registered by Schools! All completed registrants will have a "paid" mark next to their names. If it states, "processing" that means your registration fees did not get processed. You will have to re-register and complete the transaction with your payment at Paypal.